Rez Area 1: Earth: Keiichi Sugiyama – Buggie Running Beeps
Rez is a rail shooter music video game developed by United Game Artists and published by Sega for the Dreamcast and PlayStation 2. In was released in Japan in November 2001, followed by releases to the United States and Europe in January 2002.

The game has since seen two remasters: Rez HD, released to the Xbox Live Arcade in 2008, and Rez Infinite, developed for PlayStation VR and released to the PSN in October 2016. The game was conceptualized and produced by Tetsuya Mizuguchi, and is notable for replacing the typical sound effects found in most rail shooters with electronic music. The player creates sounds and melodies as they target and destroy foes in the game, leading to a form of synesthesia.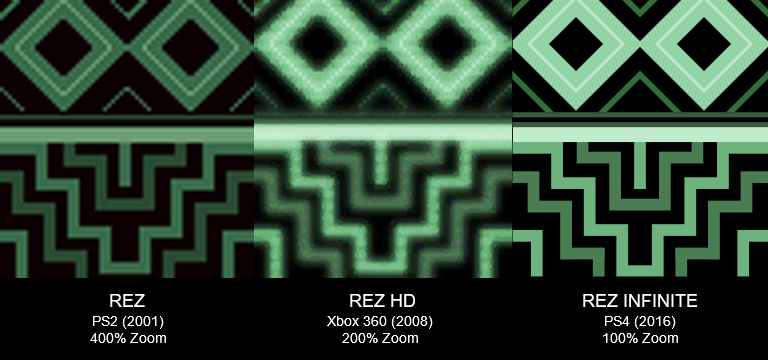 The game's development team contained several former members of the disbanded Team Andromeda, the Sega development team behind the Panzer Dragoon series. Rez Infinite, the latest version of the game created for virtual reality, was released to widespread acclaim, and is widely considered to be the best VR game to date.
From the press release:
Welcome Back… To the Future
REZ Infinite in development exclusively for PlayStation 4 and PlayStation VR.
Breathing in New Life to the Legendary Action Shooter Set in a Cyberspace World
Tokyo – San Francisco (December 5, 2015) – Newly established video game developer and publisher Enhance Games, Inc. today unveiled Rez™ Infinite exclusively for the PlayStation®4 (PS4™) system and PlayStation VR at the PlayStation Experience 2015 event held in San Francisco. The title is scheduled to release in the second half of 2016.
Tetsuya Mizuguchi, founder/CEO of Enhance Games and creator of Rez, took to the stage in a custom made 'Synesthesia Suit' and PlayStation VR head mounted display to showcase Rez Infinite – the ultimate version of the beloved psychedelic rail-­‐shooter adventure Rez, which was originally released in 2001 by Sega. Now, nearly 15 years later, fully remastered with VR support and additional new content, the latest form of Rez is infinitely improved and evolved for a new generation of hardware and its gamers. "When the original Rez was released, it was unlike any other game and difficult to explain. You had to play it, hear it, feel it in order to really get it," says Mizuguchi. "Then people called it visionary, revolutionary and ahead of its time…but my true goal was always to bring Rez to life in VR and that time is now. Rez Infinite is the multi-­‐sensory 'synesthesia' experience I've wanted to create from the very beginning."
Key members of the original development team and independent development studio Monstars, are banding together to perfect this version of Rez they've dreamt about since day one. Game details for Rez Infinite include the following:
Five different levels and unlockable missions, each with its own unique visual theme, style and audio tracks including artists Coldcut, Adam Freeland, Joujouka, Ken Ishii, Oval, Ebizoo and Keiichi Sugiyama (SEGA's Wave Master)
Take control, connect with your avatar and prepare yourself for the swarm of enemies on screen via the PS4 or PlayStation VR for the ultimate 360-­‐degree audiovisual experience
Crystal clear textures and razor sharp lines at full 1080p HD
Silky smooth 60fps motion (PS4) and 120fps (PlayStation VR)
Full 3D audio and full 7.1 surround sound support
Brand new, original content under code name "Area X"
(90)